Successful pre-order.Thanks for contacting us!
AnyBackup
READY TO SHIP

------
AnyBackup an offline auto-backup device unlike any other on the market and is certified by APPLE MFi. Our product backs up data not only from your phone but also from 3rd-party platforms.
✍Compatible with iOS & Android, iPadOS, MacOS, and Windows
✍ Offline Automatically Backup All Your Data /w Unlimited Storage
✍ Fast Charging Up To 100W and Automatically Backup Data At The Same Time.
✍ Auto Backup Social Media Content as Facebook, Instagram, Google Drive, iCloud and more.
✍ Support MicroSD card up to 2TB, USB Flash Drive, and Portable Hard Drive.
✍ Secure Your Data by Multi-Layer Data Encryption, using Face ID, Fingerprint, and Passwords.
✍ The World's Smallest Auto Backup Device, Easy To Take It Anywhere. 
✍ APPLE MFi Certification, FCC, CE, and ROHS standard.
✍ 12 Months Warranty, 30 Days 1-to-1 Replacement, Free Ship Replacement, and EU-Friendly Project.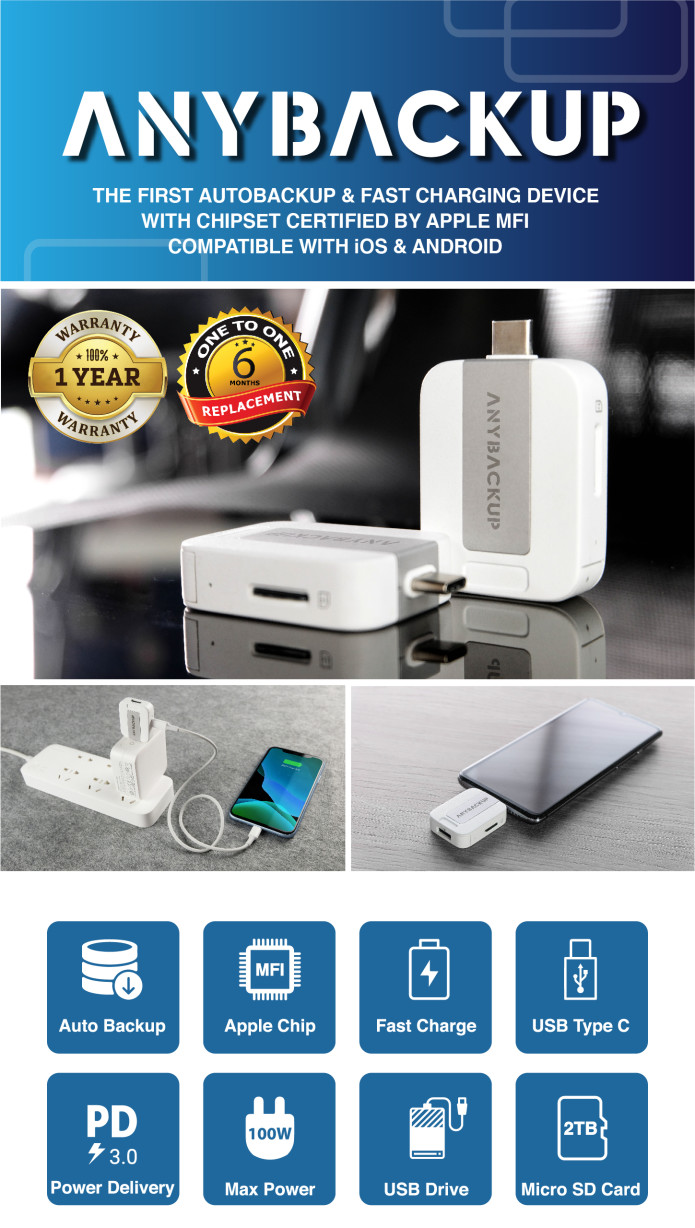 We've got it! You don't want to lose your important photos, videos, documents, and other files saved on your devices. Besides, you're tired of being pushed to pay for cloud-based subscriptions that are filled up all too fast, required internet fees, and left you little control for your privacy. 

So, we created Anybackup an auto-backup device unlike any other on the market. We've made sure it fits your new phone, is integrated with an Apple MFi chip. This product backs up data not only from your phone but also from 3rd-party platforms. It also supports fast charging while automatically backing up data and facilitates unlimited storage. Oh yeah, and it's super easy to use and transport.
AnyBackup is capable of reading, backing up, transferring, and restoring your documents, contacts, photos, videos, and data from all the popular social media channels. 
Work with all protective cases. No need to remove your protective cases !!!
AnyBackup is capable of fast charging your phone and automatic backing up your files, all at the same time.
Keep your device running at optimal levels by easily plugging in AnyBackup to your device and a power source. This quickly regenerates your battery and storage capacity.​
Fast charging multiple devices in 30 minutes

AnyBackup is compatible with the newest device released as well as older models. Here is a list of some of the most popular supported models.  
AUTO BACKUP ON THE GO
Too much Important data on your phone after a day at work? Back it up before you drive home without extending your commute. Automatically backing up data while charging your phone wirelessly.
FAST CHARGING ... FAST!
Is your phone going to die and it's not even noon? Fast charge your phone easily before your next meeting without a sweat.
END YOUR DAY
TRANSFER DATA BETWEEN DEVICES
You choose where you want to automatically back up your photos, videos, documents, contacts, and more. AnyBackup supports a variety of storage options, with the ability to read and write files at ultra-high speed. Supported storage formats include FAT32, exFAT, and NTFS.
AnyBackup connects to USB Flash Drives for unlimited storage. Plug any size of USB Flash Drive into AnyBackup's USB-A port, then plug it into your device.
Backup your data to an external hard drive by plugging it into AnyBackup's USB-A port and then into your device.
EFFORTLESS APP MANAGEMENT
Access your files on AnyBackup's mobile app. View, stream, cast, organize, edit, and share your files all from the app.
AUTO-BACKUP SOCIAL MEDIA CONTENT
Automatically backup your photos, videos, documents, audio files, and contacts from several different platforms, including Facebook, Instagram, Google Drive, Google Photos, Tumblr, Dropbox, One Drive, iCloud, and Flickr.
THE LATEST SECURITY FEATURES
Share your files with people you want and keep the rest locked up safe. Encrypt the data stored in your micro SD card, USB flash drive, or external hard drive by applying an advanced encryption algorithm. For the second layer of protection, using Face ID, fingerprint, and passwords.
TRANSFER DATA EASILY BETWEEN iOS AND ANDROID
 Product Size: 1.7*1.3*0.5Inch / 44*34*12mm 
 Product Weight: 0.037lb / 17gram
 USB Connector: USB Type-C 3.1 Gen 2
 USB input: USB Power Delivery PD 3.0
 USB output: Passthrough Charging up to 100W
 Supported Memory Card: Micro SD Card up to 2TB capacity
 Supported USB Flash/Hard/Portable Drive: Unlimited Storage
 Data Security: Password, FaceID, FingerPrint, AES algorithm
 Compatible Device: iPhone, iPad, Android, MacOS and Windows
The AnyBackup hardware incorporates an Apple Authentication Coprocessor 3.0 which handles Apple's strict rules for security and encryption. Based on that, iOS devices can automatically detect and enable the auto-backup process when AnyBackup is plugged in without any touch from the user.

We are so confident in AnyBackup's hardware quality and superior functionality that we are offering 1-Year Warranty and 6-Month 1-To-1 Replacement.